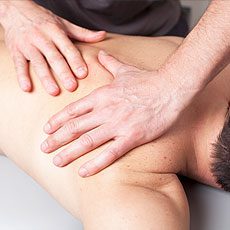 If you are experiencing any symptoms in the middle back (aka. thoracic spine from the bottom of the neck to the top of the low-back) the Reading Chiropractor can help.
If you are experiencing these symptoms, don't suffer any longer
If you are suffering from these symptoms and would like discuss your treatment options and how we can help, then please contact us on 01189 39 40 40 or alternatively use our contact form.
I was in pain for 3 months and went to see David. He helped me so much with my mid back pain and I am finally aware of what was actually wrong with me.



I am so happy with the treatment I've received that I will continue until David tells me otherwise
Miss G. Ciupko (Caversham, Reading)

Reading Chiropractor has regularly exceeded my expectations. David is very knowledgeable and helps keep my back in good working order.
Simon Proudlock (Reading)