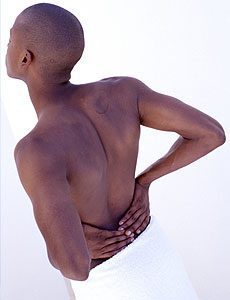 If you are experiencing any of these symptoms, the Reading Chiropractor could help.
If you are experiencing these symptoms, don't suffer any longer
If you are suffering from these symptoms and would like discuss your treatment options and how we can help, then please contact us on 01189 39 40 40 or alternatively use our contact form.

I thought it was time to write and express my thanks to you for your gifted assistance I was first recommended to visit and receive chiropractic services for what seemed like a chronic back disorder and I was unable to work at all, plus I struggled to even walk.

Your flair and skills have completely exceeded my expectations and in the year since I have been receiving your guidance, manual therapy and exercise routines, I have been able to remain positive, keep working and improve my whole outlook on my general health.

I am especially appreciative of your patience and understanding when dealing with me when I have had a set-back and have been particularly low. With your skills in manipulation and actually understanding of all of my past medical history you have been able to give me the correct treatment and encouragement which is so very important to continue maintaining my positivity and improvement in pain control and managing my expectations.

I would willingly recommend your services to anyone who needs diagnosis, treatment and prevention of joint or back pain. Thank you.
Jacqui (Finance, Reading)

I have been a patient of the clinic for years, ever since my back went out for the last time. I decided it was enough and that I needed treatment to avoid the debilitating pain and lack of movement. Since being a patient, I cannot recall a time where i was unable to walk or move. Over the years the advice and treatment I received has resulted in increased flexibility, movement and no more pain! Thanks David!
Piers C. (I.T. Reading)