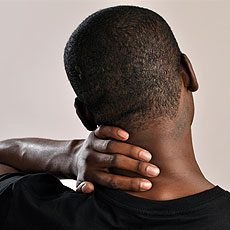 If you are experiencing any of these symptoms, the Reading Chiropractor could help.
If you are experiencing these symptoms, don't suffer any longer
If you are suffering from these symptoms and would like discuss your treatment options and how we can help, then please contact us on 01189 39 40 40 or alternatively use our contact form.

I have been going to David Woodhouse 'The Reading Chiropractor' for many years. I am an electrician and due to my work I spend many hours working from steps, or crawling into small  spaces which does not do my back any good or neck any good. Thankfully after a visit to David he puts  my body back to into its right place.He has given me exercises to do to help out my problems , but when all is going well one forgets to keep them up.




 




I have recommended him to other tradesmen that I meet, who also have sufferer similar back problems caused  carrying out there work. Over the years I have tried several chiropractors, and have found David's treatment sorts the problem out for me. I am often amazed when going to see him all painful and stiff the difference I feel leaving him.




 




Many thanks David
David Elgood (Electrician, Wokingham)

I was searching for a Chiropractician (chiropractor) in the Reading area and by luck got the recommendation for Dr Woodhouse from somebody in a sports centre.

After the first exam and treatment I felt already very happy and confident, as David immediately spotted the problems in my back and neck vertebrae already diagnosed by others (a neurologist with MRI, saying operating or doing nothing), and also a Dr and Ostheopat in Germany who was also very good but extremely difficult to get an appointment within 2 months.

Since then I typically consult David Woodhouse once a month, the problems do not disappear, but it very much relieves the stiffness and the neck and head aches (also migraines) to make you going again. David Woodhouse appears very careful, friendly and after all very competent, what else can a patient expect.
Peter Bechtold (Reading)