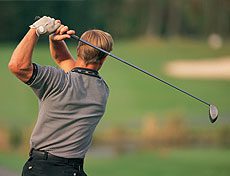 Chiropractic can help with sports, whether professional, amateur or just for fun. If you enjoy playing sports and need help for any of the these conditions, the Reading Chiropractor could help.
Minor Sports Injuries such as: Overuse injuries/Sprains/Strains
Sports Performance
If you are experiencing these symptoms, don't suffer any longer
If you are suffering from these symptoms and would like discuss your treatment options and how we can help, then please contact us on 01189 39 40 40 or alternatively use our contact form.
I had my doubts about Chiropractors and I use to think Physiotherapy was always the way forwards (As this was what was pushed forwards to me by physios). However I always had this niggling discomfort across my back that I felt was affecting my sports performance and was always at the back of my mind when I'm just trying to relax. I would stretch regularly and sought out other professionals that was never able to pinpoint was going on or treat it. I heard about David and what a great reputation he has, so I thought I would give him a chance to see what he could do. I was astonished with the outcome. His initial assessments are so thorough that he could tell me everything that was going on with my back, detected the issues and in great detail explain to me what the issues were. We then progressed onto treatment which has made a huge difference. My sporting performance has improved so much that I'm back to hitting PB's (personal bests)

 

and increasing the loads I can lift in the gym. I'm no longer have to wiggle around whilst watching films to relax. David is a true professional, he has a huge passion for his work, excellent people's skill, listens to everything you've got to say, gives a scientific reasoning to everything he is doing and even relates it back professional athletes and how it worked for them. He is the man to go and I will continue to see David for maintenance sessions to make sure I don't revert back and keep hitting new PB's. If you have an issue reading the neck, back, hips, or joints I thoroughly recommend getting David on board.

Regards Geoff
Geoff (Physiotherapy, Earley, Reading)
After a back operation just over ten years ago, I was still getting back problems. It was at that time that I started as a patient of David's, since then I have not had any major flair up. This is particularly important for me as I am a keen martial artist and I was concerned prior to seeing David that I may not be able to continue; thanks to David I am still training.
Hadrian Parry (Management, Pangbourne)